"And just like that, the Mardi Gras Indian Hall of Fame was born"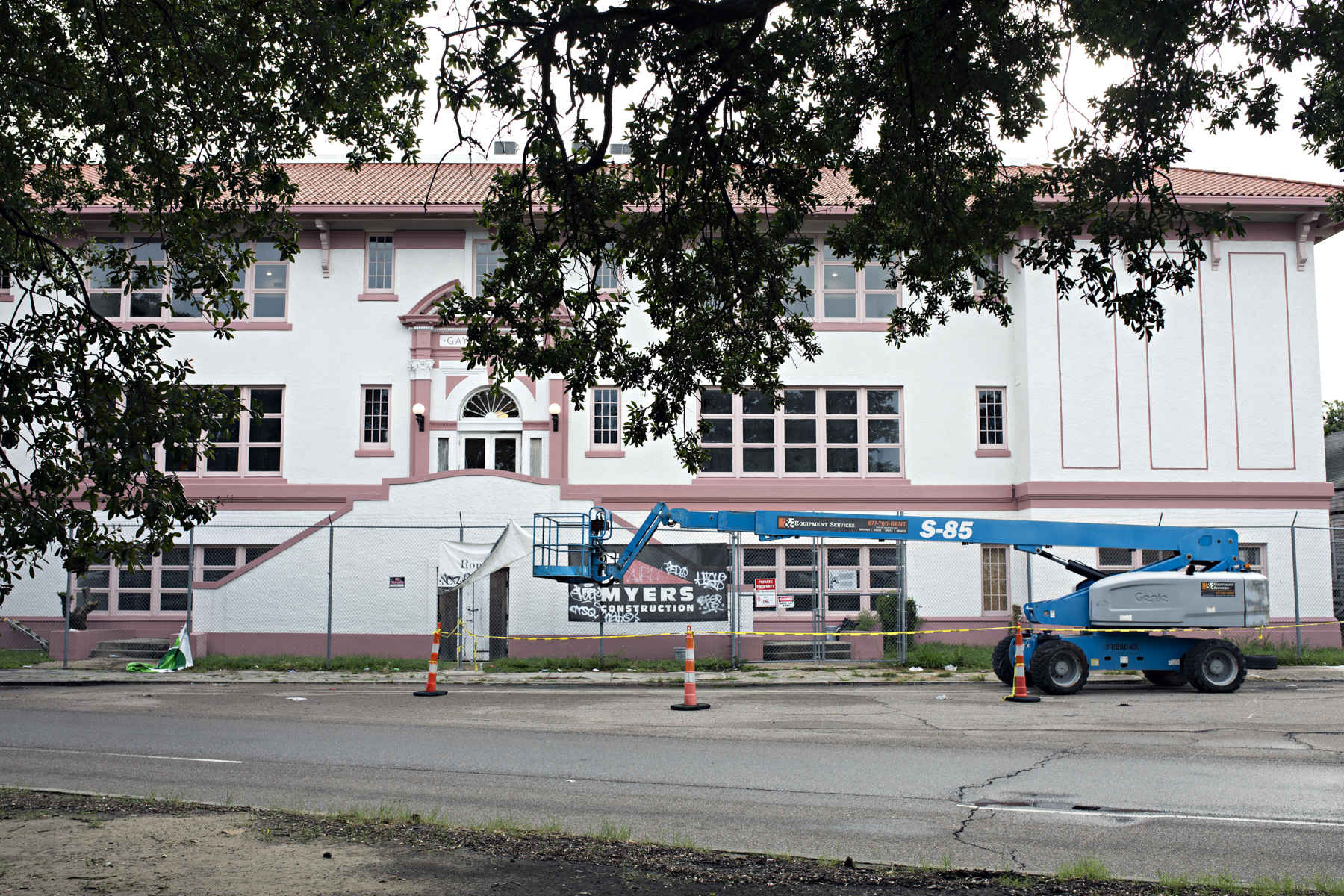 Oretha Castle Haley Elementary 1896-2005 (although it was titled
Charles E. Gayarre School until 1995)
1524 Franklin Ave
My name is Cherice Harrison-Nelson. Many know me as Queen Reesie, lots of children in the city call me Miss Nelson, some children call me Mommy Queen. My son calls me Mama. My mother calls me Reese. Some people just call me Mama, as in the African-American community, as you've reached another level on the arc of life. And my official title is Maroon Queen of the Guardians of the Flame Maroon Society. But I answer to all of those names.
We're standing on the corner of North Robertson and Franklin Avenue at the former site of Oretha Castle Haley Elementary School. It is the place where the Mardi Gras Indian Hall of Fame was established. I also was a teacher at the school for probably 20 years.
After my father, Donald Harrison Sr., became an ancestor on December 1st, 1998, I came back to work, and someone called the school wanting a piece of my father's clothing. And it made me very sad because my father hadn't been buried not even a month. And they were already trying to pick him apart, take something, have something. And the principal [Roslyn J. Smith] walked into the hallway behind me, and I told her what happened. And she said, "Well, let's establish something for our children and your father's memory, something that's a living testament and legacy that will teach people about the Mardi Gras Indian tradition, and celebrate the Indians." And just like that, the Mardi Gras Indian Hall of Fame was born.
We decided that the first ceremony would occur on March 19th because that was St. Joseph's Day; that's another day when the Indians come out, and we felt that that would give it some significance. Indians were invited from throughout the city to participate and it was during the week, so the children would be able to attend. And at that time, the school enrollment was over 700 children. If you could imagine 700 children in the yard, sitting with their legs crossed. The principal made a red carpet with butcher paper and that "red carpet" was so symbolic that Indians didn't want anyone who wasn't an Indian to walk on it and they would refer to it as the "red carpet".
It was important for the children to, first of all, learn about this rich cultural tradition that's all around them and to re-emphasize that all heroes are not in textbooks; they may be walking around your neighborhood. And in addition to that, for the Indians to know that we honor them for their commitment, their artistic skills, and all the things that they do to bring joy to the city and to be a part of the face of the city.
My father, prior to becoming an ancestor, arranged programs with the Indians at the school. So the Indians had a legacy of coming to the school and the first program, he basically gave a lecture to the children, telling the history of the tradition. And so this was his legacy, a continuation of what he planted at that school.
After 20 years, the Mardi Gras Indian Hall of Fame has done numerous panel discussions, exhibitions, film fest, book presentations to children. We partnered with other organizations. We partnered with the Prince Hall to give school supplies. We partnered with the Sewing Machine Project, along with the Donald Harrison Sr. Museum, and my mother, the Museum Director, Herreast J. Harrison, to distribute over 100 sewing machines to members of the community.
So we did a lot in those 20 years and all of that started at that school, which did not come back into operation after the August 29th, 2005 levee breaks. Although that school wasn't really damaged severely in my opinion, because that neighborhood did not sustain that level of water, but it just didn't come back into operation and it's very unfortunate because that was truly a neighborhood school, and generations of families went to that school.
Cherice Harrison-Nelson at the Donald Harrison Sr Museum, 2021
(photo by Sarrah Danziger)